People from all over the world have many job opportunities to choose from. It has been especially true in the last years due to the Covid-19 pandemic when many workplaces have evolved their online sectors. They are creating even more opportunities and jobs for people working from home. Is moving when you work from home hard? Well, it may have some hardships. One of them is trying to do anything else. Thus, we have created a guide on moving when you work from home. From choosing your new house all the way to the moving day! And you don't even need to do anything alone. Movers, Not Shakers!, with our many services, can make your relocation seamless.
Is moving when you work from home hard?
Over the years, working from home has become not only normal but also desirable. With a wide variety of opportunities and many different jobs, millions of people decide that this is something they wish to do. As such, the importance of the space you are living in becomes unimaginably significant. At the same time, the decisions about your living environment and the move itself are quite important. If you need to relocate to a new residence, accounting for the working-from-home factor will also be necessary.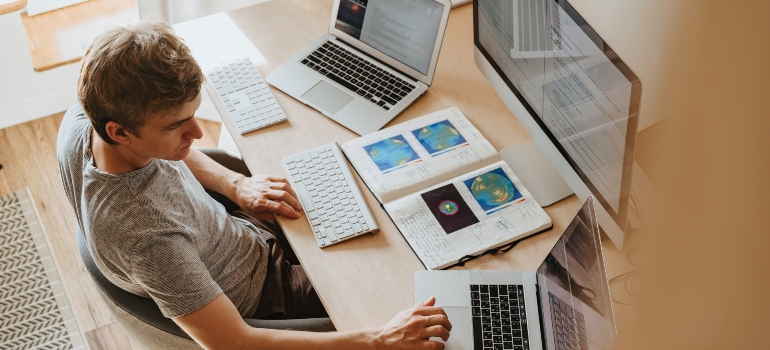 While relocating when you work from home sounds easy, it implies some factors people usually don't think about. Residential moving in NYC and beyond, in general, is not simple, no matter what your job is! So with that in mind, we made some tips that might help you simplify and shorten the moving process.
You need to:
Find the right home
Hire reliable movers
Plan your time
Find a suitable home
Before moving, when you work from home, there is one important thing – finding the perfect new home. When working in your own home, you spend most of your time there. So, the space needed for work and life is best kept separate. Also, having enough space for both of these aspects of your life is important. Of course, there are people that can't afford big spacious homes. And that's where different types of solutions come to mind. For example, using storage services in NYC as a place where you can keep all of the important work information is a good opinion.
With fewer items to keep inside your home, you can find a smaller and more affordable home and still have where to keep your work-related items. And thanks to good storage solutions and different storage options to pick from, all of your items will be safe and always in perfect condition.
Besides sufficient space, you need to find a place with a lot of natural and artificial light. The surrounding area must also be up to your standards. Therefore, before picking a home, research the area of your choice and visit the homes on sale in person. People that work from home are closely tied to the space around them. And at times, space can even have a great influence on them as well.
Hire good movers
No matter if you are interested in a long distance or local moving services in NYC, the fact is that a good moving company is crucial, especially if you work from home. People who work from home usually depend on electronic devices, such as phones, laptops, computers, and so on. And all of these things are valuable and easy to damage. Letting just anyone take care of them is absurd.
Also, when working from home, people don't even realize the amount of attention and time needed to move. So hiring professionals to help you pack and relocate will lessen your workload. Imagine sitting and working in your living room just to stop and go pack. Or imagine packing and not realizing you should be working instead.
Professionals take the pressure and stress off your shoulders, but make sure to choose good and reliable movers! Do your homework – explore your options, compare a few companies, and pick the one that fits your needs and budget.
Plan your time
The biggest problem about moving when you work from home is the time. It is a really tricky concept. Especially if you don't have strict work hours. Many people are terrible at organizing themselves. And that is nothing to be embarrassed about.
If you have never moved before, you might not be aware of the time needed for packing, cleaning, and so on. At some point, you might find yourself in a bind. To avoid any trouble, you can use packing services or any other type of moving service your company offers. Or if you need to save some money, make sure to create a detailed plan, account for your work obligations, and then stick to it.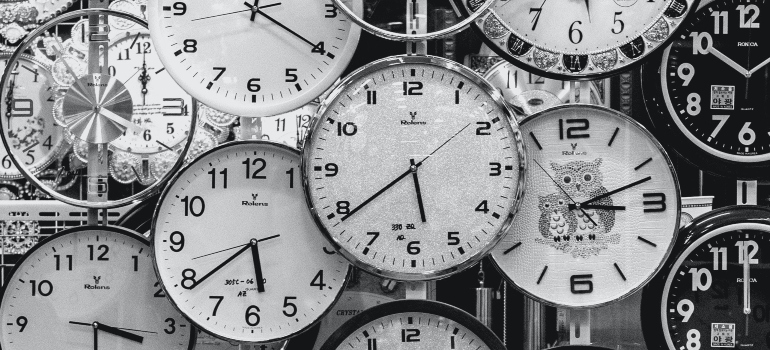 In conclusion
If you work from home and are planning to move, then there are some things you need to keep in mind. For starters, moving by yourself will be tough but cheaper. Also, you can ask friends and family for help, but if they don't have prior moving experience, don't let them handle the important items. The easier option is to contact professional movers and have them help you with your moving tasks. This is especially good if you are dealing with a big workload and need a fast and efficient relocation.
Moving when you work from home is hard because you will need to balance your job and other responsibilities. And in those cases, it is best to have everything planned out. And although sometimes unexpected situations can happen, even with the help of professionals, it all goes away fast. Just make sure your work does not get neglected at any point.