Moving with kids is not only hard for the parents. Moving can be tough on a child as well. It's difficult for anyone to say goodbye to the home they grew up in. But it's even more difficult for young children who don't know anything else other than that home. So they will feel a loss of control in this situation. How can you prepare your kids for a move? This guide will walk you through the things you need to do in order to have a successful relocation, from the basics, like setting the budget and contacting the right moving company, to what to do on the moving day. In short, this is a 6-month to-do timeline to help your get ready for moving with kids on time.
Why is a timeline important?
When moving with kids, the usual difficulties of moving become even harder, especially if dealing with a long-distance move or an abrupt one. So making a timeline with all the tasks will help you significantly. You will plan out the moving process and manage to make time for your kids. As you might already know, there are different types of moves, and there are also different timelines. We will tell you about the most practical one, the six-month timeline. From the moment you know you are relocating up to the moving day.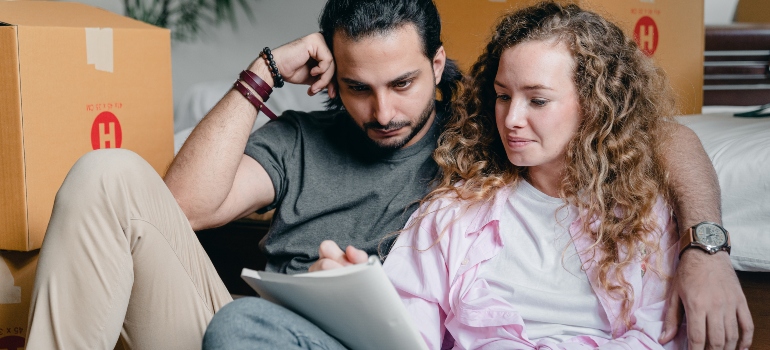 Six months prior to the move
People usually decide to move about six months before the moving day. That allows them plenty of time to plan everything well. If you are moving with kids, this is also enough time to focus on their needs, explain what is happening, and ease the transition as much as possible.
Here are a few steps to take during this period:
Determine the budget – This includes moving Services. Decide if you want to use professional movers or ask for help from friends and family. Also, decide if you wish to hire professional packers or pack yourself. Supplies are also a part of the budget. Are you buying boxes or collecting at a local store? Of course, there are other moving supplies you will need, so you can add them to your budget.
Incidentals – Consider all the additional expenses, such as insurance, security deposits, pet deposits
Begin decluttering – It's time to clean the closets. Clean out cabinets, drawers, and the cellar. Send unnecessary items out to second-hand shops, donate them, or organize a garage sale. Start sweeping out your freezer and storerooms and utilizing the food you can't or won't move. Frozen food and canned goods. If you would like to donate new food to your local food bank, consider places like Move for Hunger or similar charity organizations
Contingency plans – If your home sells fast, you will need to find temporary housing. Your items will also need to be moved, so finding some storage options, just in case, is a good idea. On the other hand, your home not selling as fast as planned can also happen, so be prepared to pay for two mortgages, two sets of bills, etc.
Research school options – If you are moving with kids that are school-age, it's time to look into some schools! Involving them in the process is also a good idea.
Create a binder or file – Collect all of the move-related paperwork you will need (Checklists, assessments, medical records, and receipts) and keep them in a single place.
Investigate medical options – Ask friends, acquaintances, and doctors for recommendations to find good medical care in the new neighborhood.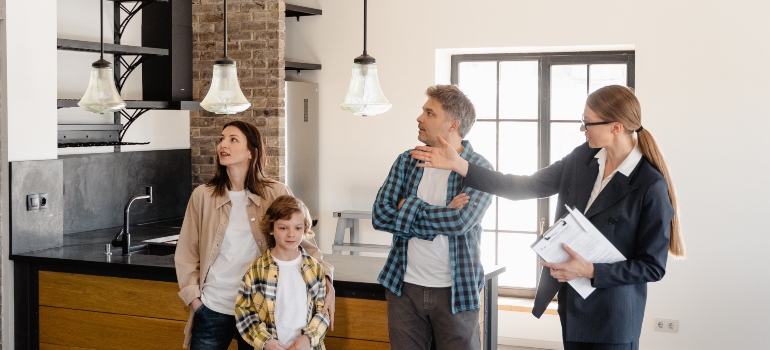 During this period, at the start, you will also need to inform your kids about the move. Moving with kids is a lot easier when they understand and help you out. And especially so if the kids are older. If they are younger, talking to them is also important. And although they won't understand everything, if you simplify it, they will get the essence of it.
Three months before the moving day
Three months before moving with kids is the time to contact the moving companies. It is also the time to talk more to your kids about the move. Younger kids can forget about moving plans. So tell them things to remind them about the relocation once a day. Chat about moving in a thrilling yet relaxed way. For example, small remarks like pointing out items at the store and saying, "This would be lovely inside your new room after we move!" This allows them to normalize the idea of moving. With younger kids, it's also useful to remind them moving won't change anything. Comfort them that their favored playthings and the household pets will be coming along.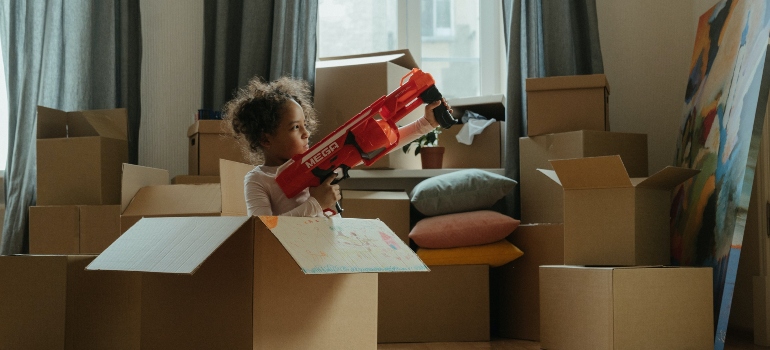 Don't be surprised if they are upset. As the move gets closer, they will start overthinking it. Leaving their friends, school, and everything else they know is not easy. So let them be upset and be there to reassure them.
A month before the move
This is the time for the goodbye parties and going around to see family members and relatives. When moving with kids, saying goodbye is critical. Giving them options to stay in touch with their friends will also bring them a lot of joy.
But this is also the time to sit with them and find things in the new city they want to do. For example, if your kid is a dancer, finding a nice place where they can continue dancing will bring them a sense of security. As well as a routine similar to the one they already had!
Final words
Moving with kids will be easier if you try and keep their old routine as close as possible to the one they are used to. Good organization also helps. That's why it's critical to start planning your relocation on time and rely on trustworthy professionals to deal with the heavy lifting and all the technicalities for you.