You've decided to move, but you're having trouble with kitchen cabinets. Don't worry; that's why we at Movers Not Shakers! are here to help you out. We've decided to share with you the best tips for disassembling and packing your kitchen cabinets. Thanks to years of experience, we have compiled a lot of helpful advice to make this tedious task much easier for you. So let's dive and see how you can disassemble and pack your kitchen cabinets in no time.
Before disassembling and packing your kitchen cabinets, make a plan
First of all, you've got to think about what you should pack and how you should do it. So start with a detailed plan. You can create a simple checklist or a more comprehensive Excel table. Whatever you do, items you should put on the list include decluttering, gathering packing supplies, wrapping and packing all the smaller items, dismantling the furniture, etc.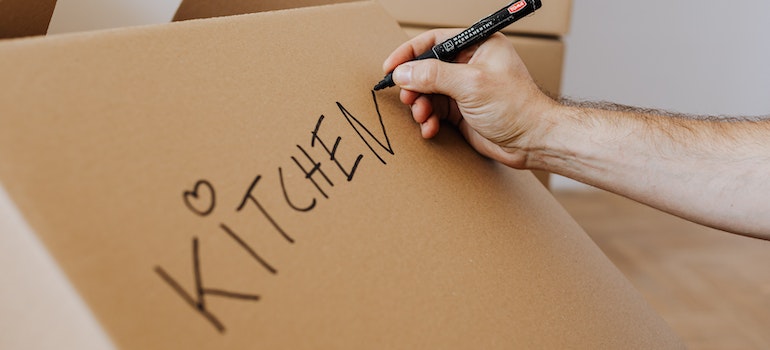 Decluttering your kitchen
To make your relocation easier and packing faster, you should downsize the inventory of your kitchen. To begin with, throw away or sell things that you haven't used in a year or so. You can also discard things that are cheaper than 20$. The best way to go about this step is to divide your list of kitchen items into different categories like sell, donate, move, recycle, etc.
You can also create a storage pile for items you don't get rid of but don't want to bring to your new home either. Explore the best storage services in NYC and pick the safe place for these items for as long as you need.
Also, you shouldn't move any food, even if it's frozen. Instead, plan your meals, so you see up most of the food you have. Alternatively, give it away, donate it to a food bank or dispose of it properly. Especially if you're moving long distance, food can start to smell. Also, it's not legal to transport so much food across states.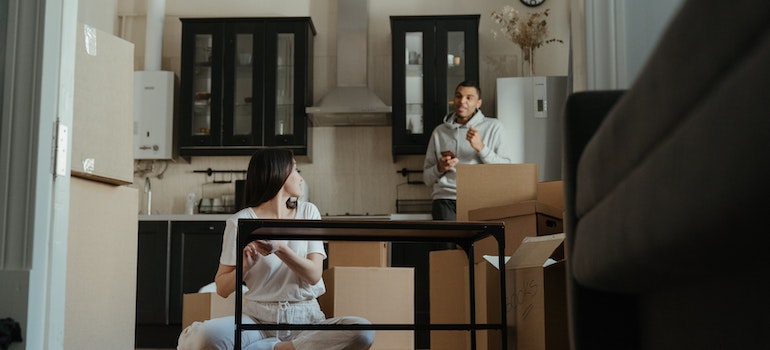 Packing your kitchen inventory
Packing is the most time-consuming task when moving, especially when it comes to packing your kitchen inventory. There are so many tiny objects, and many of them are either fragile or can damage items around them. For example, you'll need to wrap all the kitchen utensils, especially knives. Glasses and plates also require a layer of cushioning.
If you're short on time, consider hiring professional movers to handle this for you. Professional packing services are worth every cent as they will allow you to go about your business and deal with much more pressing matters related to your move than something as mundane as packing.
Disassembling your kitchen cabinets
Here are the pieces you will need to dismantle:
Cupboards
Drawers
Chairs and tables
Sinks
Countertops
Mounted cupboards
Base cupboards
Electrical devices
We, as residential movers NYC residents know and trust, know how it feels like when our customers call us when they're in the middle of packing and moving and can't figure out how to disassemble and pack kitchen cabinets and other compartments.
That's why it's best to call the movers first and ask for a quote. With professionals by your side, you will have the time to focus on your family, saying goodbyes, and your work, while professional movers do what they do best – make your relocation seamless.
DIY tips for dismantling and packing kitchen cabinets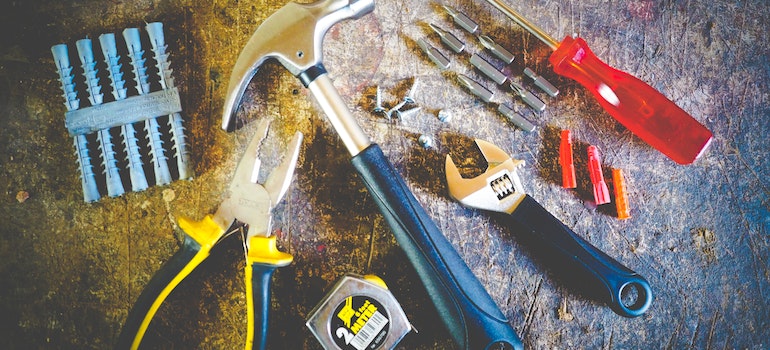 When it comes to DIY moving, always ask someone to help you. This can be your neighbor, family member, friend, or coworker. But make sure they know how to use power tools. For most kitchens, you will need nothing more than an electric screwdriver. Unless you already have one, you should consider exploring the best electric screwdrivers. If they're too expensive or for professional use, and you don't think you will use this tool much in the future, ask someone to lend you one. Or you can buy a cheap option on Amazon or eBay.
Finally, if you are adamant about doing everything yourself, Google and YouTube are your best friends. You'll find plenty of DIY channels and videos about disassembling different things around the house.
Let the disassembling begin
Before you begin, take everything out of the kitchen that's mobile, including electronic devices.
Start with smaller and simpler cabinets and after you've pulled everything out of them, start unscrewing the doors. Also, you'll want to go with the tall ones first. So you'll be going from top to bottom, and also be sure to turn off any switches if you aren't sure if there is any wiring there. If you aren't confident with the electric screwdriver, you can use the old-fashioned manual one. After you're done with cabinet doors, proceed onto the drawers from the upper and lower cabinets.
We also recommend wearing rubber gloves when it comes to moving, packing, and doing some work. You can easily hurt yourself in these working conditions.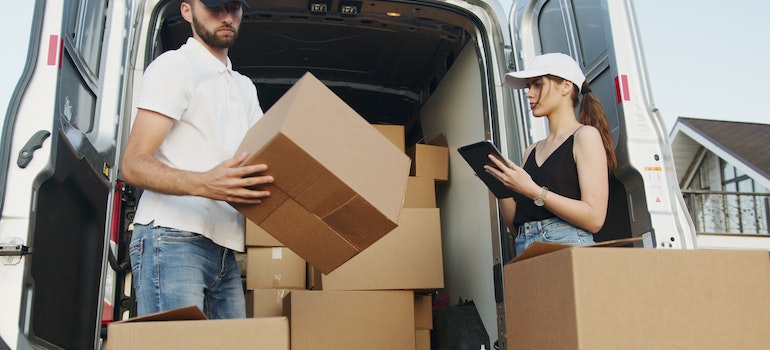 If anything is connected to the plumbing system or your stove is connected to the gas supply, it would be best to rely on professionals who are entirely sure what they are doing.
Final thoughts
Disassembling and packing your kitchen cabinets is not the most difficult thing in the world, but it's not that simple either. If you are not confident about your capabilities, relying on moving professionals who have done this many times is the best way to go. After all, the damage you may cause to your belongings, or worse, to yourself, would be much more significant.