Relocation is one of the things that people have to do a few times in their lives. Usually, this is something that you would be looking forward to. Obviously, on such occasions, you would be planning your relocation and be eager to figure out how to go about that business. However, sometimes you may find yourself in a middle of an opportunity that can easily require you to take a leap of faith and not let you thoroughly plan your move. What can you do then? Well, not much more than simply taking the leap of faith while praying for the best. Still, there are things up to you in this unplanned move. Movers Not Shakers! are here to share with you the most common problems of last-minute relocation and help you avoid them! So, in the case that your move is coming up, make sure to bear with us!
Managing the most common problems of last-minute relocation
Often we talk to people who find themselves in dire situations. Sometimes the fault is on them for simply not taking their residential move in NYC seriously enough. Other times, it is entirely not up to them. Sometimes life gets in the way, and there is nothing that you can do in order to prevent the course it has taken. Still, what these people have in common is the fact that they need to move quickly, regardless of the reasons.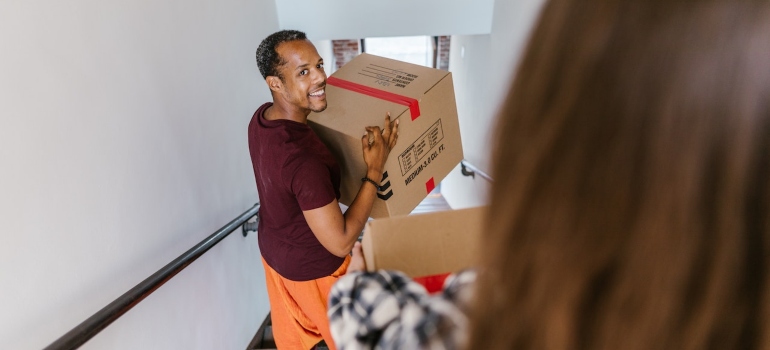 So, thanks to our experience, we decided to come up with some guidelines for all of you who happen to find yourselves in need of a quick move.
The most common problems of last-minute relocation that you should try to avoid making are the following:
Damaging your belongings is a thing that happens way too often when people are in a hurry. We will take a look at how not to do this
Becoming a victim of a moving scam
Damaging the property is another thing that can but should not happen
Renting a new place in a rush
Now, let's take a closer look at the bullets from above and find out how to avoid these issues happening to you.
Make sure not to damage your belongings when moving in a rush
Definitely, one of the common mistakes that people make when planning their last-minute interstate move to NYC is that they do not care enough for their belongings.
Firstly, it is common to damage your belongings in preparation for the move. Packing is one of the essential processes when relocating. So, sometimes, in order to be quicker, people pile up their items, thinking that they are well protected and nothing could happen to them just because they're packed in a box.
While packing should ensure that all of your items receive quality protection, we know for a fact that if the packing has not been done right, then the protection your belongings have received is not going to be 100% as expected.
How to go about packing
There are two options to go about packing. Firstly, you could opt to pack by yourself. In that case, we would suggest investing in proper packing materials.
Alternatively, you could seek professional help. Our movers will gladly help you pack for your NYC move, no matter when you need to be on the go.
Do not become a victim of a moving scam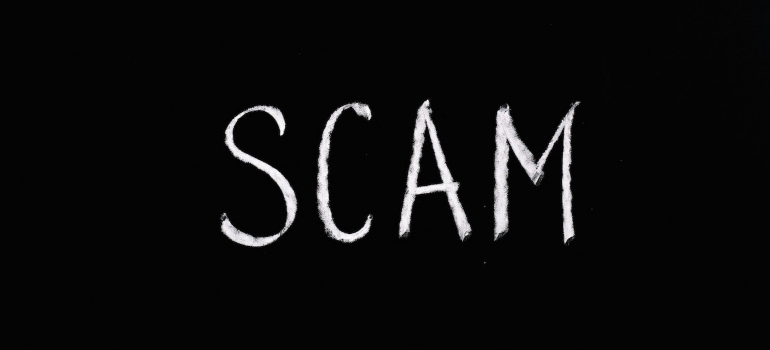 The next thing we need to address when moving in a rush is the possibility of becoming a victim of a moving scam. This happens when people panic about their move and its timeline. Fearing that they may not be able to get going in time, sometimes people would hire just about any moving company out there. This is, obviously, not something you should do.
There are numerous ways to make sure that the movers you are looking into hiring are trustworthy. You can check the testimonials on their webpage. Furthermore, you could and should check independent third-party pages for reviews. One of the best, obviously, is Yelp! Consulting institutions such as the American Moving & Storage Association or Better Business Bureau are also very good ideas.
Whatever you do, do not rush, even though you may be in a rush. Say this to yourself when you start feeling like panicking. It should help bring you back on the right track.
You should not damage any property in the process of moving
Now, moving stuff around can be awkward, especially if you have to manage and relocate sturdy items such as wardrobes or closets. A by-product of this kind of activity can be damage to the property that you are leaving or that you are moving to. Truth be told, we cannot decide which one is the worse option. So, make sure to avoid damaging any of them.
To make sure that everything remains as it should be, there is a thing that you can do. You can contact our 24/7/365 movers. They can respond in no time, keeping everyone's property intact!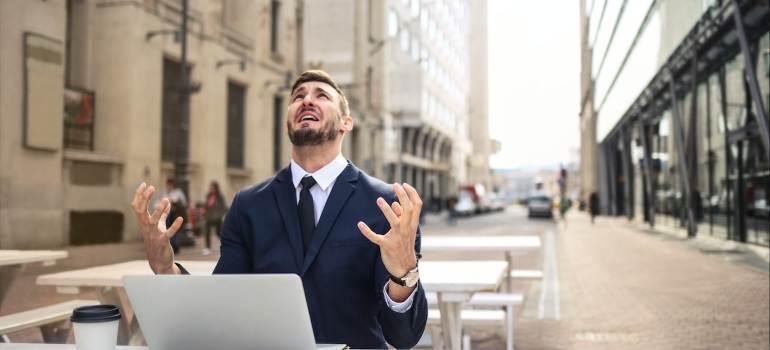 Renting a new place in a rush is one of the most common problems of last-minute relocation
Lastly, let us point out that you should not rush into renting a new place just like that. We can understand that when moving from the state of California to New York, for example, you would want to have a secure place to move to. However, sometimes it is better to stay in a hotel and rent storage space first. Making time to make the right decision is crucial.
Be mindful of the problems and avoid them
You have seen what the most common problems of last-minute relocation are. Now you can avoid making them! So, plan properly and think about what you are doing. Your common sense is your best ally on occasions such as this one.