NYC is one of the most beautiful and populated cities in the world. And at the same time, it is a place where many different people gather and open their businesses. As a city of opportunities, it gives many different benefits to all new companies. But like any other place, it also has some drawbacks. So don't rush. Think things through before you make any spur-of-the-moment decisions and contact some of the best last minute movers NYC offers to move your business to the Big Apple. Is NYC a good place to start a business, or not? We are here to tell you.
Things you need to know about NYC
NYC is one of the most iconic and well-known locations in the world. And this is something that is considered a big deal. With a population of 8.4 million, NYC is definitely a good place to start both business and a new life. So many people look for the interstate movers NYC residents recommend and move their entire lives here. And we understand why! A fast-paced lifestyle, many cafes, restaurants, and clubs as well as good schools and even better job opportunities. It is no wonder that NYC became the melting pot of so many different nationalities and cultures. Still, there are also a few things you need to consider before starting a business here.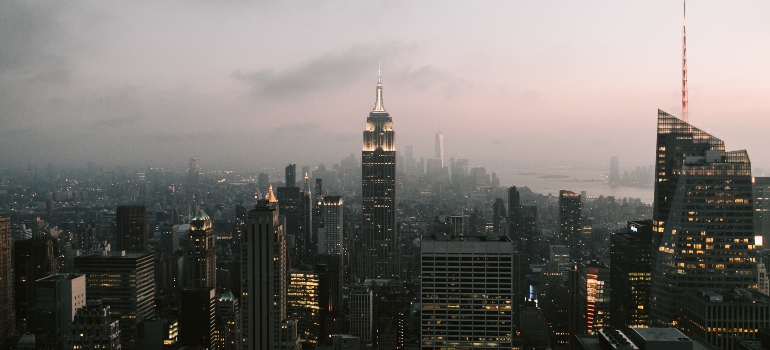 NYC is a business hub
New York City's prestige exists for a reason. It is an international hub that delivers amenities other cities can't match. For example:
Entrance to cultural riches, art, acting, etc.
NYC is the home of Wall Street (the biggest influential financial party in the nation)
The bond between the public as well as the private areas
Wide professional talent pool and plenty of schooling options
Respected social networking
Good public transport options
Influenced by all of this many different corporations that have opened their main buildings or satellite areas in other different states, decide to maintain a certain level of presence in New York. It is beyond doubt important to be part of the nation's best and most fierce financial structure. So calling Movers Not Shakers! and moving your business will definitely have many benefits.
The Big Apple is a competitive place
Before looking for suitable space and hiring office movers NYC recommends, there are a couple of things you need to look into. The first is your business itself. We already said NYC is a place filled with opportunities and people. And of course, the city is huge. But that also means there are many types of businesses in it. Or in short, there will be plenty of businesses similar if not the same as yours. Knowing what defines and sets your company apart will be one of the most important factors for success!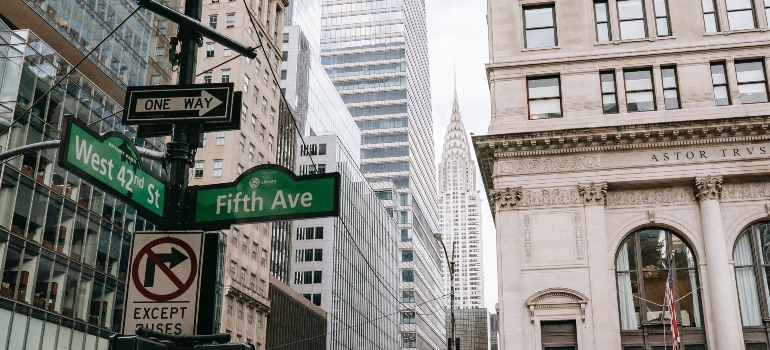 NYC has expensive taxes and rigid restrictions
All of the glory of NYC has its price. How can people enjoy so many benefits without any repercussions? Unfortunately, here, the drawbacks are shown in form of taxes and strict regulations. Taxes are so high that sometimes people risk major losses when moving their corporations. New York City's circumstances related to the business are not as welcoming as in other areas. Due to the harsh penalties and taxes, many corporations feel like their profits are threatened.
Preserving its vast infrastructure and advanced regulations doesn't come easy. And maintaining everything that New Jork City offers comes in the shape of taxes that are one of the highest in the nation:
The top bracket of earners has an income tax of 14.78%
Combined sales their tax rate is 9.25%  
The income Tax for Corporations is 6.5%
In order to see how big taxes here are let's look at another area. For example Houston, Texas, tax statistics:
The top bracket of earners has an income tax of 0%
Combined sales their tax rate is 8.25%  
The income Tax for Corporations is 0%
Talented people
One more good thing in NYC is the people that live in it! New York City's atmosphere draws in some of the nation's best and brightest. It is an area that is attractive to a big number of college-educated adults. Manhattan also delivers access to some of the most respected educational institutions. For instance, Columbia, Fordham, and NYU can all be found here. If that wasn't enough, the city's college system provides reliable educational support for NYC citizens. And it even goes a step further with many different institutions that provide training. So we can say for certain that the city is unmatched when it comes to skilled individuals. And that will bring you and your business many benefits when it comes to employees and their credentials.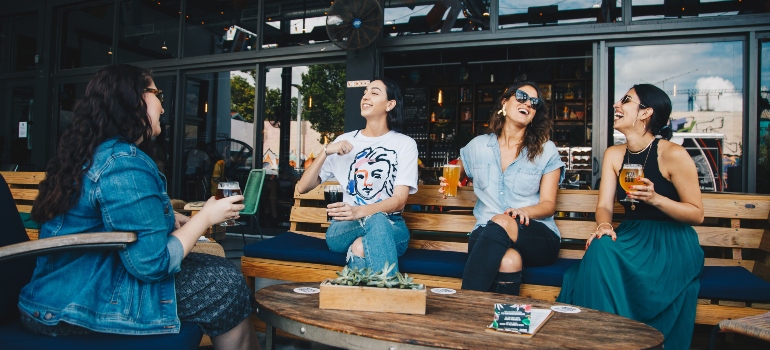 High cost of living
When asking "Is NYC a good place to start a business," we also need to look at the living costs. This is probably the biggest reason why people decide not to come here. The living costs in this city are the highest in the country. Unfortunately, that will reflect on your business as well. For example, just looking for office space and looking at the prices is sometimes scary. NYC has one of the most pricey office rentals in the nation. The price of an office in a good area is around $80 on average. So if you do not have a big budget or are not certain about your business plan, rethink this whole move.
NYC is the city of opportunity
Moving into a new city and opening a business there can be scary. And we know how intimidating big taxes and high office prices can look. But NYC has so much more to offer. And in the long run, many businesses prosper and become so much bigger and larger, to the point where NYC prices become laughable. So when you ask: "Is NYC a good place to start a business?" We will tell you: yes! Yes, it is!