Lower Manhattan is a bustling neighborhood in New York City, known for its rich history, diverse culture, and iconic landmarks. Here you can find the Statue of Liberty and One World Trade Center, among many other sights. While the whole of Manhattan is a bustling hub offering something for everyone, Lower Manhattan is where some of the city's most prominent landmarks are. For all of you who are considering relocating to New York with some of the best green movers NYC has to offer, Movers Not Shakers! is here to help you prepare for your relocation. Today, we are going to take a look at what awaits you when moving to Lower Manhattan. While it has a lot to offer, it is important to be aware of both the good and the bad sides. So, let's get down to business and get dirty with the details.
What you need to know about the neighborhoods when moving to Lower Manhattan
Lower Manhattan is made up of several distinct neighborhoods, each with its own character and charm. From the trendy SoHo and TriBeCa to the financial district, you can find a neighborhood that fits your lifestyle here. Before you hire the movers Lower Manhattan residents trust the most, you should know that the most prominent ones are the following:
Financial District
Battery City Park
Tribeca
SoHo
Chinatown
Little Italy
Let's find out more about them.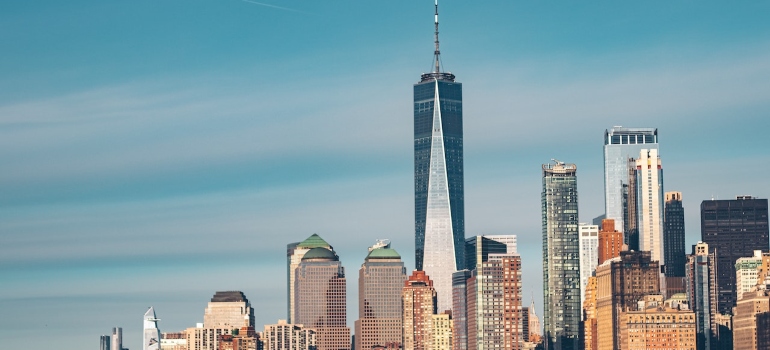 The Financial District
This neighborhood is the heart of Lower Manhattan and the city's financial center. It's a popular area for professionals working in the finance industry and offers easy access to public transportation. Alongside it are iconic landmarks like the New York Stock Exchange and One World Trade Center.
For all of you looking for a Manhattan moving company to help you relocate here, residential options in the Financial District include luxury high-rise apartments, historic townhouses, and converted loft spaces. Many of the buildings offer stunning views of the Hudson River or the city skyline.
Despite its reputation as a financial hub, FiDi also offers plenty of cultural attractions. The neighborhood is home to the National September 11 Memorial & Museum, the Skyscraper Museum, and the South Street Seaport Museum.
Battery Park City
Battery Park City is a planned community located on the southwestern tip of Manhattan Island, bordered by the Hudson River to the west and the Financial District to the east. It was built on a landfill in the 1970s and 1980s. Nowadays, it boasts beautiful parks, outdoor spaces, and stunning views of the Hudson River and the Statue of Liberty.
The neighborhood is primarily residential, with high-rise apartment buildings and luxury condos dominating the skyline. This should be good news for all of your thinking about hiring local NYC movers and relocating here. The buildings offer a mix of rental and ownership options, and many feature modern amenities like rooftop gardens, fitness centers, and 24-hour concierge services.
One of the highlights of Battery Park City is Hudson River Park. It runs along the neighborhood's western edge. The park features bike and pedestrian paths, playgrounds, and several piers where residents can relax and enjoy the river views.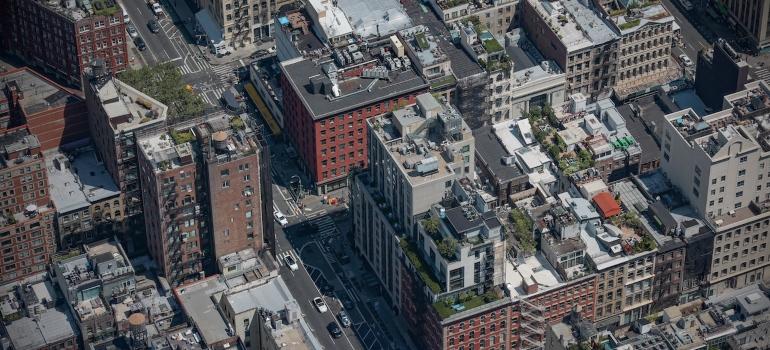 Tribeca is a neighborhood to keep in mind when moving to Lower Manhattan
A trendy and upscale neighborhood, Tribeca is known for its cobblestone streets, historic loft buildings, and trendy restaurants, shops, and galleries.
One of the most distinctive features of Tribeca is its architecture. Many of the neighborhood's historic buildings have been converted into luxury loft apartments with large open spaces and high ceilings. The neighborhood also features several new construction buildings that blend seamlessly with the older architecture.
Tribeca is also famous for its trendy restaurants and cafes, many of which are located in historic buildings. The neighborhood is also home to several high-end boutiques, art galleries, and design shops.
Soho
SoHo, which stands for "South of Houston," is a trendy neighborhood. It is located in Lower Manhattan and is known for its artistic and bohemian atmosphere. Its borders are Houston Street to the north, Canal Street to the south, Lafayette Street to the east, and West Broadway to the west.
SoHo is also home to several cultural institutions, including the New York City Fire Museum and the Drawing Center. The neighborhood's proximity to other downtown neighborhoods like Tribeca, Chinatown, and the Financial District also makes it a convenient base for exploring Lower Manhattan. So if this is what you plan to do often, moving to Lower Manhattan and to SoHo itself is a very good idea.
One of the highlights of SoHo is the outdoor shopping district along Broadway, where visitors can stroll along the sidewalks and browse the shops while enjoying the unique architecture and atmosphere of the neighborhood.
Chinatown and moving to Lower Manhattan
The neighborhood is known for its bustling streets filled with markets, shops, and restaurants serving traditional Chinese cuisine. It's a popular destination for foodies looking to sample authentic Chinese dishes like dim sum, dumplings, and noodle soups.
Chinatown is also home to several cultural landmarks, including the Museum of Chinese in America, which features exhibitions on Chinese-American history and culture, and the Mahayana Buddhist Temple. This beautiful temple complex attracts visitors from all over the world.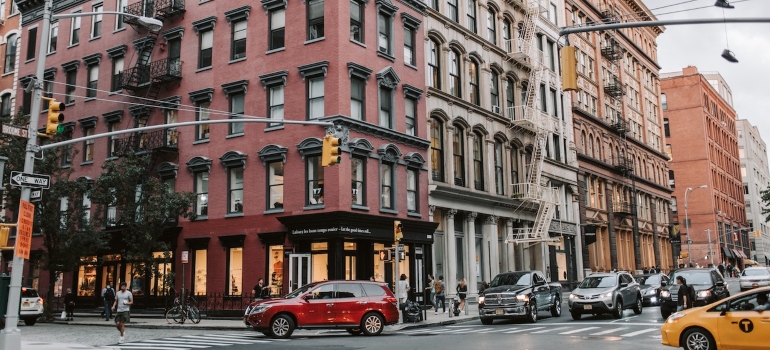 Little Italy
Little Italy is a small neighborhood. Its borders are Canal Street to the north, Bowery to the east, and Broome Street to the south. It was once a bustling Italian-American enclave, but in recent years, it has become more of a tourist destination than a residential neighborhood.
Little Italy is known for its lively atmosphere, with its streets lined with Italian restaurants, cafes, and pastry shops. In addition to its Italian-American heritage, Little Italy also has a rich cultural history, with landmarks like the Tenement Museum and Old St. Patrick's Cathedral.
Choose the right neighborhood before moving to Lower Manhattan
Lower Manhattan has plenty of neighborhoods to take into account when deciding where to relocate. Moving to Lower Manhattan is a good decision so long as you can afford to pay the rent here. Still, this is Manhattan, so it is surely not going to be low. So, take your pick and prepare for the move! Whichever neighborhood you choose, you will now know what you can expect after moving to Lower Manhattan.