Manhattan is a food lover's paradise with an array of international cuisine options. From trendy cafes to Michelin-starred restaurants, there's something for every palate. The best foodie destinations in Manhattan are worth exploring whether you're a local or a visitor. And for those planning to move to Manhattan, hiring Manhattan movers will make the transition smoother.
Trendy Cafes in Manhattan: The Smile in NoHo
Manhattan is home to some of the trendiest cafes in the world, offering an unforgettable experience for coffee lovers. If you're looking for a cozy and stylish ambiance, head over to The Smile in NoHo, where you can enjoy an artisanal coffee and a delicious pastry. The Smile's menu features a range of breakfast, lunch, and snack options, all made with fresh, locally sourced ingredients.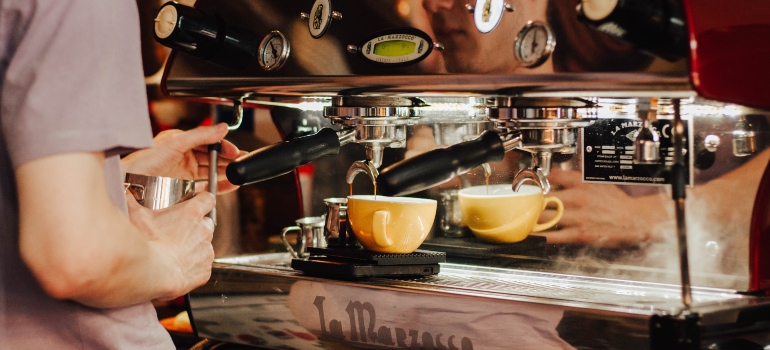 Maman in Tribeca
One cafe that is definitely worth visiting after relocating with Tribeca movers is Maman in Tribeca, where you can savor their famous lavender hot chocolate and indulge in their signature Nutella-filled chocolate chip cookies. Maman's charming decor and warm atmosphere make it a perfect spot for a weekend brunch with friends.
Bluestone Lane in West Village
Bluestone Lane in West Village is one of the best foodie destinations in Manhattan for coffee lovers. Their Matcha and Golden Lattes are exceptional, while their healthy breakfast and lunch options, like Avocado Toast, and Smashed Peas and Ricotta toast, are delicious. Plus, their bright and inviting space is perfect for relaxing with friends.
Ethnic food in Manhattan: Soba-Ya in East Village
If you're looking for delicious ethnic food, head to the East Village for some of the best Japanese food at Soba-Ya. Their homemade soba noodles are a must-try, and their menu also includes a range of delicious sushi and small plates. The cozy and welcoming atmosphere makes it a perfect spot for a date night or a casual dinner with friends.
Nom Wah Tea Parlor
One of the most popular and highly regarded restaurants in Manhattan is Nom Wah Tea Parlor, which has been serving up dim sum and other Cantonese dishes since 1920. Their dim sum is some of the best in the city, and their menu also includes other classic dishes like scallion pancakes and sesame noodles. The restaurant's charming, retro decor adds to the experience, making it a must-visit spot for anyone looking for authentic Cantonese cuisine after relocating with Chinatown movers to Manhattan.
Casual Eateries in Manhattan: Joe's Pizza
Joe's Pizza is a legendary institution that has been serving up some of the best pizza in Manhattan since 1975. The family-owned pizzeria uses high-quality ingredients and a classic recipe to create mouth-watering thin-crust pizzas that are crispy on the outside and chewy on the inside. Despite its fame, Joe's Pizza remains a no-frills, cash-only joint. Therefore, customers can enjoy their pizza at the counter or take it to go. And with multiple locations throughout the city, including in Greenwich Village and Times Square, Joe's Pizza is a convenient and delicious option for anyone looking for a classic New York-style slice.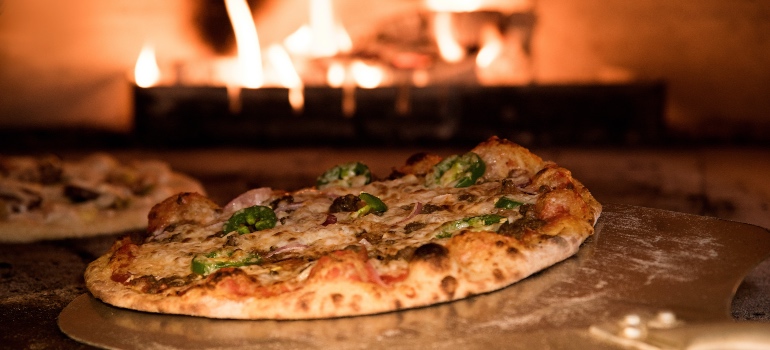 The Halal Guys
The Halal Guys is one of the best foodie destinations in Manhattan. Their famous halal street food includes chicken and gyro over rice, pita sandwiches, and falafel. The food is affordable, delicious, and served quickly. Their white sauce is a must-try and is what makes their dishes unique. After relocating with Financial District movers you can visit their restaurant in Financial District.
Fine Dining in Manhattan: Manhatta
Manhatta is located in Lower Manhattan, and it offers stunning views of the city from its 60th-floor location. The menu is inspired by French cuisine and features dishes like roasted duck and poached lobster. The ambiance is refined and sophisticated, making it a perfect spot for a special occasion. If you're interested in visiting, movers Lower Manhattan offers can help you relocate to the area and enjoy this beautiful restaurant.
Eleven Madison Park
Eleven Madison Park is a fine dining restaurant located in the Flatiron District of Manhattan. It has been awarded three Michelin stars and is considered one of the best restaurants in the world. The restaurant's menu is a creative take on modern American cuisine, focusing on local and seasonal ingredients. The dining experience at Eleven Madison Park is nothing short of exceptional. The restaurant's interior is elegant and sophisticated. The restaurant also offers a unique tasting menu experience, which includes 8-10 courses of the chef's signature dishes
The best foodie destinations in Manhattan: Le Bernardin
This award-winning French seafood restaurant is located in Midtown and is known for its elegant atmosphere and impeccable service. The menu features dishes like tuna carpaccio and poached lobster, all expertly prepared by Chef Eric Ripert.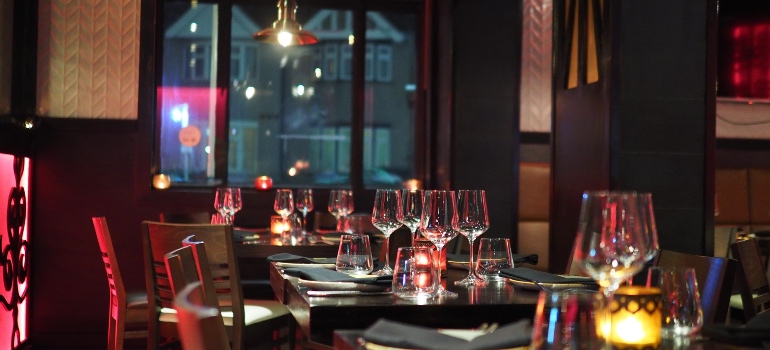 Vegetarian and vegan options in Manhattan: By Chloe
By Chloe is a popular vegan fast-casual chain with multiple locations in Manhattan. It's worth visiting for several reasons. Firstly, their menu is entirely plant-based and made with whole, natural ingredients. Secondly, By Chloe's interior design and branding are stylish and Instagram-worthy. Moreover, By Chloe is committed to sustainability and ethical sourcing. They use eco-friendly packaging and locally-sourced ingredients whenever possible.
The Little Beet
This casual restaurant in Seaport offers healthy, plant-based fare made from seasonal ingredients. Their menu includes a variety of options, from grain bowls and salads to burgers and tacos, all made with fresh, natural ingredients. The restaurant also offers gluten-free and vegan options. The Little Beet is one of the best foodie destinations in Manhattan to visit after relocating with Seaport movers to the neighborhood.
Best restaurants with a view in Manhattan: One Dine
One Dine is located in One World Trade Center. It offers stunning panoramic views of the city skyline. One Dine menu features American cuisine and a great selection of wines. Here are some of the best items on the menu:
Lobster Mac and Cheese
Charred Octopus
Wagyu Beef Burger
Dry Aged Ribeye
Hudson Valley Foie Gras.
The best foodie destinations in Manhattan: The View
This rotating restaurant is located on the 48th floor of the Marriott Marquis in Times Square. The View offers stunning views of the city while you enjoy American cuisine and drinks.
Conclusion: The Best Foodie Destinations in Manhattan
Manhattan is undoubtedly one of the world's best destinations for foodies, with a diverse range of culinary options that cater to every taste and budget. From trendy cafes and ethnic food to fine dining and vegan options, the city offers something for everyone. Whether you're looking for a cozy cafe or a fine dining experience, you'll find some of the best foodie destinations in Manhattan. And before you explore all options, schedule Movers Not Shakers for your upcoming move.