Welcome to your ultimate neighborhood guide for moving to Tribeca, a gem among New York City's vibrant boroughs. Whether you're contemplating relocating to Tribeca or simply wish to explore what the neighborhood has to offer, this blog post aims to serve as your compass. Movers Not Shakers will guide you through the cost of living, local attractions, including the One World Trade Center and Skybridge, and relaxing spots like Pier 25. We'll also walk you through the diverse culinary scene, inviting you to the renowned Tribeca Grill and Belle Reve. Most importantly, we'll share tips on how to transition smoothly into your new home, whether you decide to hire professionals or opt for a DIY approach. Ready to start your journey? Read on to discover all that awaits you in Tribeca.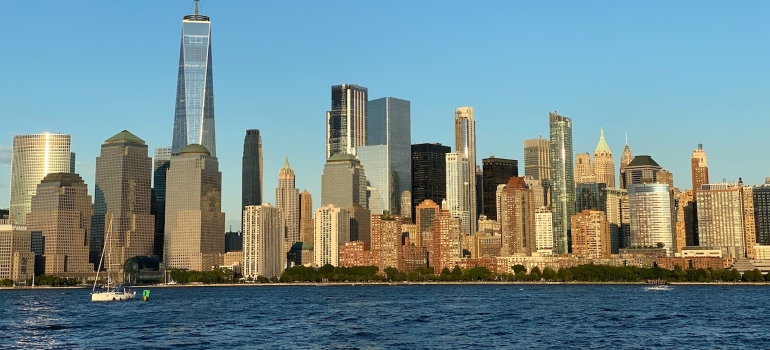 Meet Tribeca
Tribeca, an acronym for "Triangle Below Canal Street," is a captivating neighborhood nestled in lower Manhattan. An embodiment of New York's classic charm and modern sophistication, Tribeca has steadily evolved from its industrial past to a sought-after residential and cultural hotspot. The neighborhood, flanked by the Hudson River, Broadway, and Canal Street, holds an illustrious history; its cobbled streets and loft-style buildings are a testament to its industrial heritage. Anyone considering moving to Tribeca will appreciate the area's beautiful architecture, spacious apartments, excellent schools, and sense of community – all tucked away just a few minutes from Wall Street. Relocating to Tribeca offers an urban living experience that combines culture, history, and luxury in a unique package.
Moving to Tribeca: The cost of living
Before hiring Tribeca movers and relocating to this amazing neighborhood, you should first check the main factors, such as the cost of living, the job market, and other things of your interest. So, when it comes to the cost of living – according to Niche, including housing expenses, tends to be higher than the national average. The median home value in Tribeca is around $2,000,001, significantly surpassing the national median of $244,900. Similarly, rental prices in Tribeca have an average median rent of $3,112, compared to the national median of $1,163. With a dense urban feel, Tribeca predominantly consists of renters, accounting for about 61% of residents, while homeowners make up 39%.
When comparing the cost of living in Tribeca to other neighborhoods in Manhattan and NYC, it remains one of the more expensive options. However, Tribeca's exclusive charm, access to amenities, and proximity to major attractions justify the higher price tag. Considering your budget and weighing the cost against the benefits of living in this coveted neighborhood is essential when contemplating a move to Tribeca. And if you find Tribeca appealing, you can rely on 247 movers NYC companies offer to help you move without stress.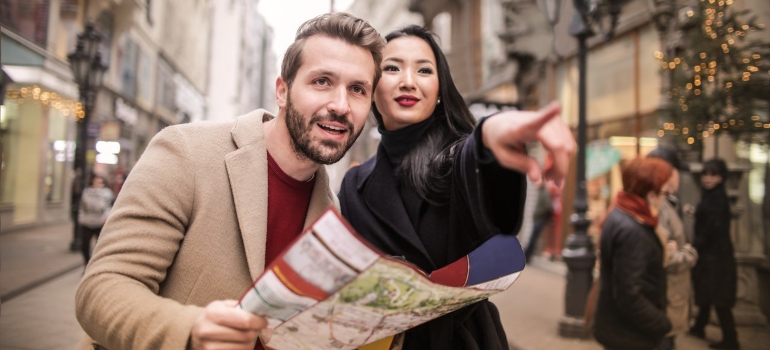 What to visit in Tribeca
Tribeca is not only a desirable place to live but also a haven for exploration and entertainment. There are several attractions in the area that cater to diverse interests. One of the must-visit landmarks is the One World Trade Center. It offers panoramic views of New York City. The observatory experience allows you to marvel at the city's monolithic skyscrapers from a unique perspective. Be sure to check ticket costs and plan your visit accordingly. Another highlight of Tribeca is the Skybridge, which offers a captivating glimpse into the neighborhood's industrial past. Exploring Skybridge provides an immersive experience that combines history, culture, and artistic expression.
For those seeking natural beauty and tranquility, Pier 25 is the ideal destination. Located along the Hudson River, it offers stunning views of the waterfront and is perfect for leisurely strolls. You can also engage in various recreational activities, such as kayaking or enjoying a picnic in the park. Consider visiting during sunset to witness the breathtaking skyline views in all their glory. When moving to Tribeca, these attractions serve as reminders of the neighborhood's allure and provide ample opportunities for exploration and enjoyment. Whether you're captivated by towering skyscrapers, historical landmarks, or natural beauty, Tribeca has something to offer for everyone.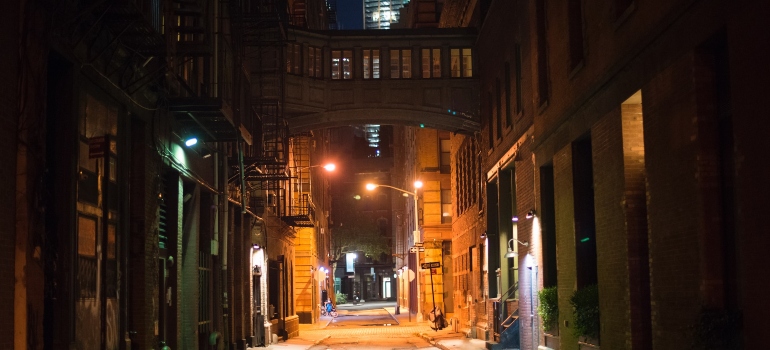 Moving to Tribeca: Don't miss out on Tribeca Grill
Tribeca is a culinary paradise, boasting a vibrant food and drink scene that caters to various tastes. The neighborhood has notable restaurants and cafes that have garnered acclaim and become local favorites. One such establishment is Tribeca Grill, co-owned by restaurateur Drew Nieporent and renowned actor Robert De Niro. This iconic restaurant has been a Tribeca landmark since 1990. Known for its exceptional wine menu, Tribeca Grill offers a unique dining experience with diverse dishes and a warm ambiance.
For those seeking a laid-back atmosphere and expertly crafted cocktails, Belle Reve is a must-visit. This low-key bar is perfect for unwinding and enjoying a drink with friends. With a menu featuring delicious cocktails and classic American fare, Belle Reve ensures a delightful experience for its patrons.
Moving to Tribeca: How to
Moving to Tribeca requires careful consideration of various factors to ensure a smooth transition. One of the first steps is finding a suitable place to live, whether it be renting or buying. It's essential to explore different options, utilize online listings, work with real estate agents familiar with the Tribeca area, and consider average prices to make an informed decision. Additionally, hiring professional movers, such as Manhattan moving companies, can alleviate the physical stress of the move and ensure a seamless experience. Once you've arrived in Tribeca, take the time to adjust to the neighborhood by exploring local amenities and meeting your neighbors. Building connections and engaging in neighborhood initiatives will help you establish a sense of belonging and make the most of your new Tribeca lifestyle. By considering these aspects and taking proactive steps, you can make your move to Tribeca a successful and fulfilling one.